BIM helping to improve decision making and performance
across the building and infrastructure life cycle.
Laser Scan to Building Information Modeling
Virtuematic delivers a professional scan to BIM 3D Modeling services by utilizing the latest cutting-edge technology products to convert point cloud and laser survey data into sophisticated 3D BIM models. The result is an accurate real-world model that can helps end user in presenting and visualizing building components, construction sequences, resource allocation and other disciplines of the construction process in a virtual environment.  We leverage the latest technology solutions from Autodesk like Building Design Suite (BDS), Revit, AutoCAD, and Navisworks for new construction projects, and as built structures for renovation and documentation of retrofits. Our domain experience and expertise gives us that extra edge to pioneer the concept of onshore and offshore model to provide the most effective way to manage BIM projects.
 Virtuematic expertise of delivering LOD for different levels. We adopt internationally accepted standard for LOD. These development models are purpose built for various stages of design, 3D visualization, construction-caliber quantities, scheduling, estimations, on-site production control and fabrication
Building Information Modelling 3D Laser Scanning and Modelling Applications Include:
Primary BIM Model – the initial as-built BIM 3D model created from the laser scan data can be used as the primary BIM model, which is manipulated, changed, analysed and adapted throughout the project life cycle
Mechanical Electrical Plumbing (MEP) – using the scan data to identify the position of MEP, specialised software can then be used to accurately create an intelligent 3D utilities plan
Computational Analysis – 3D BIM models can be used for Structural Analysis, Finite Element Analysis (FEA) and within other Computational Analysis tools
Surveys for Revit terrain on new build sites
Marketing and Media – models can be visualised and rendered for use in promotional campaigns
and media releases
3D Revit Model - Radbrook College
Creation of intelligent 3D  Revit model from the laser scan data, the area of interest consisting of 3 buildings and topography.
to the Level Of Detail 4 as per COBie standard.
Radbrook college  Shrewsbury UK.
Project Duration – Two weeks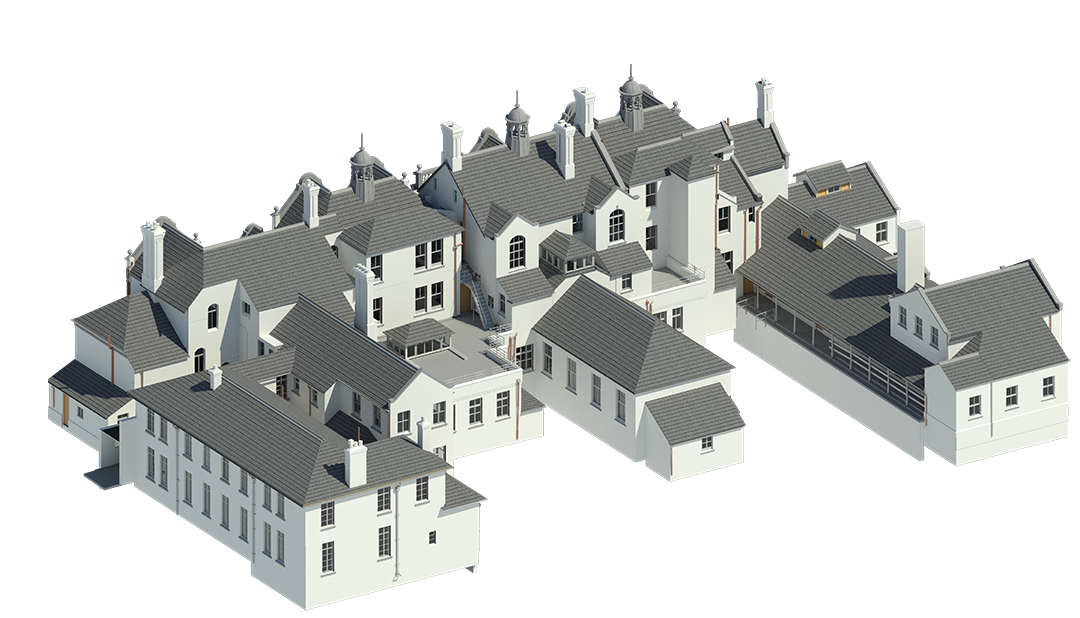 3D Revit Model - Grey Street Boutique Hotel
Creation of intelligent BIM model using Autodesk Revit software from the laser scan data, the area of interest consists of 8 building with approximately 120-bedroom in each building, stretch from Grey Street down to its junction with Mosley Street and across to the lower part of Cloth Market.
Newcastle hotel, Grey Street, UK

3D Revit Model of Commercial Building
Creation of intelligent Autodesk Revit 3D model from the laser scan data, to the Level Of Detail 4.
San Francisco bay area, US.