Visualise Your Future Reality
Overlay digital content and information onto the physical world.
Imagining the opportunities with empathy machine
Virtual and Augmented reality are hitting their stride, providing business and consumers with truly seamless and immersive experiences. AR/VR technology is transforming how we interact with the world and with each other. And we at Virtuamtic are here to help you conquer these waves and help you grow your business. Our team experienced in enterprise AR solutions simulators, Product visualisation and the video game market. Our projects cover manufacturing, aerospace, retail, real estate, education, sports, healthcare and more. Find out about the way's companies are using AR and VR make a deeper connection with consumers.
AR-VR provides interactive experiences to real world environments by leveraging perceptual information and making it accessible to community of workers. Our AR-VR capabilities can help users visualize & manipulate large amounts of data, identify business anomalies, build field force enablement support for technology assisted remote maintenance, provide conceptualized and contextualized learning through immersive experiences and identify opportunities for improved interactivity.
We envision, create and extend best-in-class AR/VR solutions for clients, through:
All modern towns and cities have extensive and complex networks of underground facilities – water, sewer, or natural gas, telephone, and fiber-optic lines. As more facilities go underground, the underground network becomes more complicated, making accurate identification of each more difficult. Since utility workers are unable to see buried assets directly, they rely on maps and information provided by others, and some of that information is antiquated or inaccurate.  This often results in unintended damage to buried lines.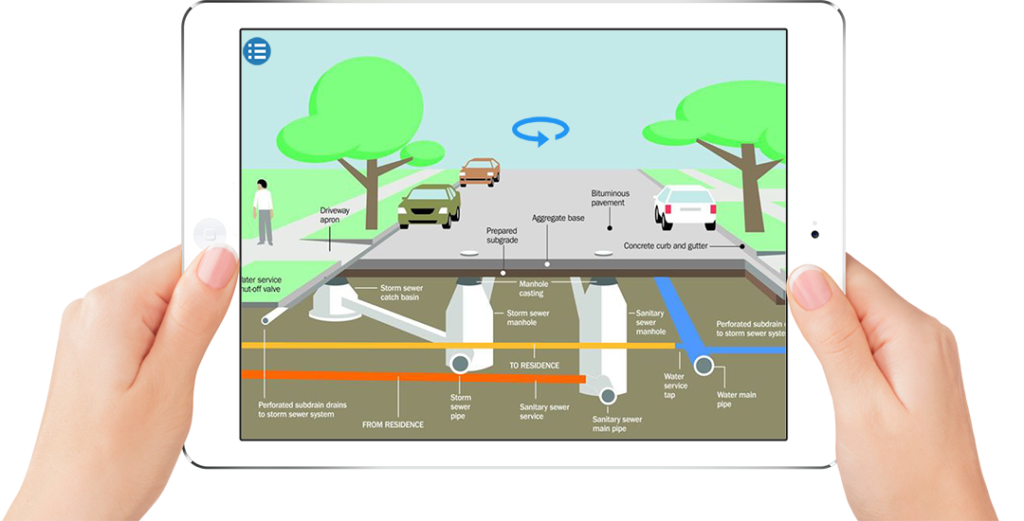 Building Information Modeling is already making the life of construction (AEC) professionals easier, enabling them to more efficiently plan, design, construct, and manage buildings and infrastructure. BIM with AR adds value to operations and maintenance phases of the project lifecycle. The AR user doesn't need to stop his work to get information about the building models, manuals and schematics for machinery etc. These can be made available to the users directly. 
During maintenance, with work orders and work instructions being made directly available to users with AR, improvement in performance accuracy, efficiency, and compliance, can be observed. Higher ease of work is achieved in both operations and maintenance as the AR wearable enables hands-free use: the user can view information without having to hold drawings or turn pages of a manual.